April 12 is National Grilled Cheese Sandwich Day.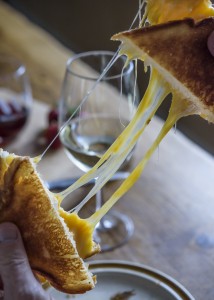 The American version of the grilled cheese sandwich has been around since the 1920s.  An economical way for the family to stretch their American dollar with a 9¢ loaf of bread, a 39¢ pound of butter and a 38¢ slab of cheese.  These simple three ingredients can make a warm, crispy, creamy, savory lunch or dinner.
Nowadays grilled cheese sandwiches come in many forms, from the simple and easy classic American cheese on white bread to the artisan approach, say Gruyere on brioche. Comfort food any way you look at it. The choice of cheese and bread is made on a personal or economic basis, or may just depend on what's on hand.  Now, we all know tha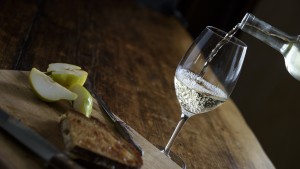 t wine and cheese match together perfectly, like peas and carrots. There are, however, certain wines and cheeses that might make for the perfect pairing.
Lighter wines like Pinot Grigio may pair with lighter and softer cheeses, maybe a Swiss or Gouda. Creamier cheeses like a Havarti or Brie would match better with a bigger creamier wine like a chardonnay. A spicy pepper cheese just might pair with a high acid Riesling on the sweeter side, not dessert wine sweet, but semi-sweet. If you want to go with a local cheese then go with a local wine. Vignoles and Traminette would pair perfectly with any of the aforementioned cheeses. Happy Grilled Cheese Sandwich Day! Enjoy!