Beer has long been the staple beverage for Super Bowl gatherings around the country. But as the years go by, wine is creeping up in consumption and will soon tackle beer sales from coast to coast! This year, especially with the game being held in what has long been hailed as wine country.
Don't be afraid to pair wines with typical Super Bowl fair. Chicken wings, nachos, pizza and chili can all be paired with wine. And with today's many value wines, the notion that wine is too pricey to be budget friendly is simply not true.
For spicy Buffalo Chicken Wings, we would try an off-dry Riesling from the Mosel Region…think blue bottle. The light, fruity, chilled wine will cool off your palate after a plate full of the fiery goodness. A nice Riesling can be found at your local Schnucks or Dierbergs for about $8. The relatively low alcohol will allow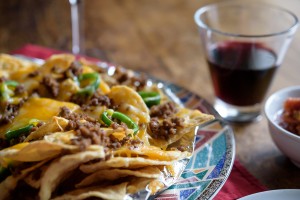 you to enjoy the wine until the final minutes of the game.
Nachos and chili can have similar spices and comparable flavors, so either would pair nicely with a spicy Syrah or a zesty Zinfandel. Both of these wines have peppery undertones that would match well with the southwestern seasonings. A hint of blackberry on the finish will kick things up just a notch! You can find a very nice bottle of Syrah or Zinfandel on sale at your local grocer for around $10.00.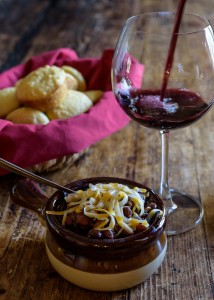 Whether your pizza is smothered with a wide array of toppings, or is more on the simple side, a Lambrusco can certainly compliment. This highly under-rated wine has a light effervescence and mild acidity to pair well with the tomato based sauce. You can pick up a bottle of Lambrusco at Trader Joe's for about five bucks. That's way less than most six-packs.
No matter what your drink of choice, enjoy the day! But don't rule out wine for the Super Bowl…you may just score extra points with your guests. Cheers!