Ward on Wine i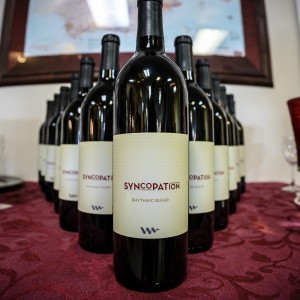 s just so thrilled at the turn out for both Syncopation launch parties.  One was held at Edgewild Winery and Restaurant in Chesterfield, MO and one at The Wine Barrel in Sunset Hills, MO. Our friends, family, business associates and fellow wine lovers turned out to offer their support.   We could not be more thankful to Dee Dee and Andy Kohn from Edgewild and Barb and Patrick Giljum from The Wine Barrel for hosting these events. Everyone seemed to love the wine and they enjoyed themselves at both venues.
Syncopation Rhythmic Blend is a dream come true for Ward on Wine. We are so happy that so many people came to share this very happy occasion with us.
This wine is a Missouri wine from the Augusta AVA.  Created at Noboleis Vineyards and Winery by winemaker Brandon Dixon collaboration with Mike Ward from Ward on Wine.  Syncopation is a blend of Chambourcin, Traminette, Vidal Blanc and Seyval Blanc, making it an interesting blend of both red and white grapes.