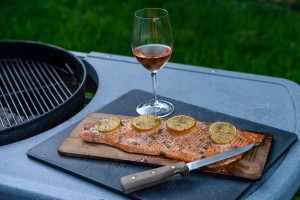 The end of summer and approach of autumn brings many things. Shorter days. Closed pools. Pennant races and football weekends.

Just as some fashion rules say you don't wear white after Labor Day, likewise, many wine drinkers think that the fall spells the end for rosé wines.

No way, rosé? Say it isn't so!!

This was a summer of rosé revelation for my wife and me. Two weeks in the south of France certainly helped. Glasses, or a bottle of pink from Tavel, Provence or another near region, accompanied our lunches almost daily.

However, one doesn't have to travel to another continent to appreciate the pleasure rosés bring to your glass and your meal.
Consider the following reasons for making a case to keep a chilled rosé on hand regardless of the time of year:

A) FRESHNESS—Few wines have the guaranteed freshness of a rosé. Most bottles in the store will be a 2014 or 2013 vintage—or if it's from Australia, South America or South Africa, probably 2015—so you are assured of a wine that is young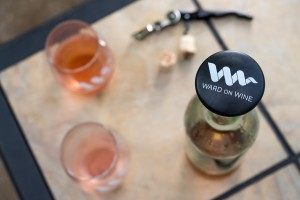 but at its best. Rosés are not by their nature meant to be aged. They are not the result of a complex wine making process, have not matured in oak barrels and do not need to age in a cellar. So, open, drink, savor!

B) DIVERSITY OF STYLE—Study the rosé section of your favorite wine dealer. The differences are many. Chances are that most will be dry. Yes, there are those who think that a rosé must be a sweet wine, such is the specter of the curse of White Zin, and that's another topic. The vast majority of rosés have and still are vinified and enjoyed as dry wines. The key differences are to be found in origin (five continents), grape varietal (any red grape you can name and often blended with some white grapes), and color (salmon pink to strawberry red and shades in between.) Styles may vary somewhat, but they usually have one common trait, which leads to the next point. . .

C) FOOD FRIENDLY—You can spend a lot of time agonizing over which white or red would go best with dinner. Truth is, it might be a rosé. By nature, rosés are not overly acidic or tannic. The neutrality of a rosé provides an option for fruit and cheese, salmon, pork or poultry. As my wife and I discovered, take a lesson from the French. Why do they drink so much rosé? Because it pairs perfectly with their cuisine and their life style.

D) AFFORDABILITY—Following all of this praise of rosés, the fact is that most of them are among the best values on the market. There are rosés made by some of the finest winemakers on the planet but which will be available for the friendliest of prices. Twenty dollars, possibly even fifteen, will buy you a wine that satisfies all year round.

Don't let falling leaves and the thought of looming cold and snowy days get you in a funk. Keep some rosés on hand during the winter and you'll always have a bit of spring in your glass. Think and drink pink!