It's Girl Scout Cookie Time…cue the applause…and Ward on Wine is not above jumping on the GS Cookie and Wine Pairing Wagon. Girl Scout Cookies are great with a tall, ice cold glass of milk, a warm mug of hot chocolate or a steaming cup of Joe. But at Ward on Wine we believe every food has a wine to accompany it, and cookies are no exception. As grown-ups, we are lucky enough to be able to enjoy, not only these yummy cookies, but a great glass of wine, too. We have chosen a few of our favorites to pair with a few of our favorites!
Samoas: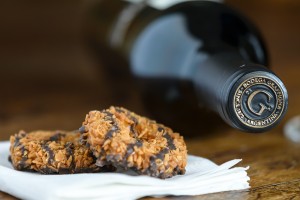 The Samoa has layers of flavors, the fudge, the toasted coconut, the shortbread cookie and the caramel, making it complex. A full bodied wine can stand up to and bring out these complexities. Graffigna Centenario Reserve Malbec is right on the mark. This Malbec has chocolate and spice notes to compliment the coconut and fudge, as well as slight hints of oak to accompany the shortbread cookie.
Savannah Smiles: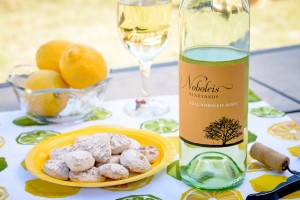 Savannah Smiles are a crispy, crunchy lemon cookie dusted with powdered sugar. Noboleis Blanc is accented with bright citrus flavors and refreshingly crisp to mirror the flavors of the cookie. The light acidity of the wine balances the sweetness.
Do-Si-Dos: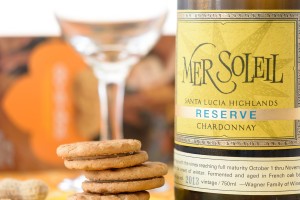 The warm butterscotch and buttery smoothness of Mer Soleil Reserve Chardonnay are a perfect match to the peanut buttery goodness of the Do-Si-Dos. The contrast of the crispy cookie and the creamy peanut butter pair well with this medium bodied wine.
Trefoil: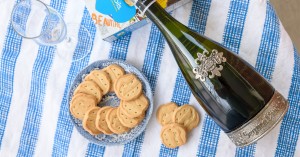 The classic Trefoil shortbread cookie has had great staying power over the years. It's a classic! And so is Segura Viudas Reserva Heredad Cava. This sparkling wine has notes of honey and fruit, light on the tongue, yet full of flavor making it a great companion to the simple yet delicious cookie.  And the beautiful Segura Viudas bottle wears a trefoil of its own!
Enjoy these tasty cookies that come around but once a year, but remember, wine is here everyday!