This past weekend, I was visiting my good friends at The Wine Barrel for their weekly wine tasting, and I got a neat surprise when I was there. Certified Sommelier, Mike Ward of Ward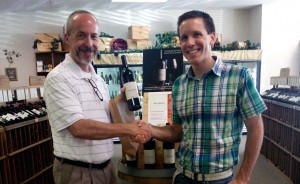 on Wine was there with a new project of his called Syncopation. Syncopation is a private-label red wine blend produced in Augusta, MO, which, if you didn't know, was the first AVA recognised by the United States Federal Government in 1980 (beating out Napa).
Having been to some of Mike's classes (including ones about two of my favourite countries for wine [Italy and Spain]), I was confident that any wine he would stand behind would be a worthwhile investment. Though I'm not usually partial to wines from Missouri, the way that he described Syncopation as being "medium bodied with some nice red fruits and a little spice" was enticing to me. Before getting to my personal impressions and review of Syncopation Rhythmic Red blend, here are some interesting notes about it:
Read complete blog post HERE.
http://z-issue.com/wp/syncopation-red-wine-blend-from-mike-ward-on-wine/