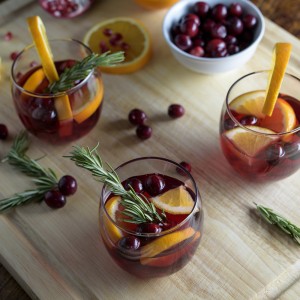 Sangria isn't just for the summer months. Cozying up by the fire mid-winter with a fruity glass of Sangria can be so delightful!  Be sure to choose a medium bodied, fruit forward red wine.  We chose Hahn Pinot Noir for this cheery concoction.  Try it warmed as a mulled cocktail, too.
Ingredients
2 cups fresh cranberries
1 cup sugar
1 cup water
1 (750-milliliter) bottle fruity red wine
1/2 cup brandy
1 cup fresh orange juice
Garnishes: fresh cranberries; orange, pomegranite and rosemary sprigs
1. Bring first 3 ingredients to a boil in a medium saucepan over medium-high heat. Reduce heat to low, and simmer 5 minutes or until cranberries pop. Pour mixture through a wire-mesh strainer into a bowl, using the back of a spoon to squeeze out juice. Discard solids.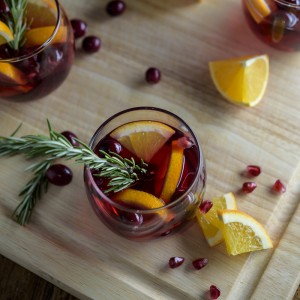 2. Transfer cranberry mixture to a large pitcher. Stir in wine, brandy, and orange juice. Chill 2 hours. Serve over ice; garnish with cranberries, other fruits or rosemary if desired.
To serve as a warm mulled cocktail, transfer mixture to a Dutch oven and heat just until it begins to boil. Garnish, if desired.