My babbling boy of nearly two is sunshine on a cloudy day. He is the tic to my toc. Being a mother is the best, hardest, single most wonderful thing I will ever do in my life. Running around after our amazing little crusty-nosed wonders can be exhausting, and tired working Mamas need to take an occasional break—a grown-up time out. If I've planned appropriately for my moment of respite, I've got a glass of wine waiting for me. I've had a bottle in my kitchen staring me down the last couple of weeks, and this Mother's Day, after my angel is drooling peacefully in his crib, I think I'll pop it open and relax with a nice (full) glass of Wild Horse Pinot Noir.
First, there aren't many Pinots out there that I turn away in general. They're soft, a little fruity and just easy to drink. Your mouth doesn't get super dried out from heavy tannins. The oops-I-drank-the-whole-bottle-by-myself regret is minimal, compared to a night alone with Cabernet or Zinfandel, though I'll admit I haven't had many nights like that since I became a Mother–there's a bit more fuddy in my duddy these days. But I definitely do still enjoy a glass of wine—often Pinot Noir—with dinner pretty regularly. It's really versatile, whether I'm having salmon (of the frozen wholesale club variety, a "fancy" dinner in my house) or a Friday night take-and-bake something or other. Pinot Noir goes with so many foods.
So we've establish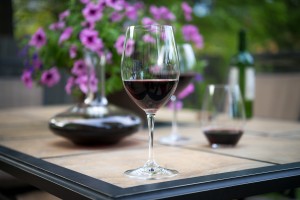 ed that Pinot Noir is awesome. What puts Wild Horse in the lead for me is (besides the sheer deliciousness of it) is that it comes from a woman – a MOTHER—Winemaker, Chrissy Wittmann. The tender hands that turned the leaves of the vines to shield the grapes from afternoon sun are the same that wipe tearful eyes after a little one's fall. The patient nurturing required of her to make the beautiful wines that she does is the same care and compassion that's called for at home. For me, as someone that not only looks for a great wine, but appreciates the principles behind how it's made and who makes it, I love enjoying Wild Horse wines because I can identify with the Winemaker's story. She's a working Mother who's passionate about her craft and dedicated to her two young children. In her biography published by the Winery, says Chrissy, "I think you could compare making Pinot Noir to raising kids. Sometimes they're very easy to get along with and sometimes they're not. No matter what kind of child you have, you have to believe that if you put in enough hard work, everything will come to fruition."
On Mother's Day, I look forward to celebrating the passion of another Mother and truly gifted Winemaker. To all the sweet Mommies out there, I hope you find time for your own much deserved grown-up time out.