The Vineyards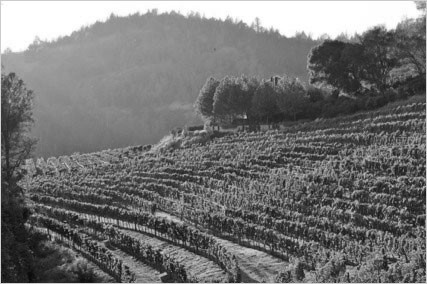 Howell Mountain
Many of our estate vines now exhibit eighteen years of age and have established deep roots on our 120 acre hillside property. Between 1997 and 2002, we planted 29 acres of Cabernet Sauvignon and also cultivate 6 acres of all eight of the Bordeaux blending varietals. Cabernet Franc, Petit Verdot, Merlot, Malbec, Carmenere, St. Macaire, and Gros Verdot. In pursuit of maximizing our options for flavor, we utilized several different root stocks and clones for our Cabernet Sauvignon plantings. The vines span two distinct vineyards which we have the privelage of farming. The Amphitheater vineyard derives its name from its shape across the hillside. The Rancho del Oso vineyard, nearest the winery, boast a resident black bear who visits from time to time. In 2012 we were fortunate to purchase and adjacent 15 acres ad have planted Cabernet Sauvignon here. These three vineyards are farmed exclusively for the production of our Howell Mountain Cabernet Sauvignon and Howell Mountain Merlot.
Mount Veeder.
The vines from our steeply terraced, Betty's Vineyard, struggle for nourishment and moisture consistently producing clusters with small berries and intense flavors. Wines from this vineyard have been highly acclaimed through the media since our first vinetage in 2002, for their power and elegance. Aromatically, we love the lavender and violet tones emanting from this property. We acquired this property in 2002 and farm only 17 acres on this remote 42 acre estate.
The 265 acre Woolls Ranch was purchased in 2006 and produced its first fruit in 2012. We have 32 planted acres here and grow primarily Cabernet Sauvignon on this remarkable sight. We also cultivate small blocks of Merlot, Cabernet Franc, Malbec, Carmenere and St. Macaire.
Oakville
Our Oakville vineyard spans 30 acres surrounding our home. Planted at various times, we grow white varietals here.  The Chardonnay plantings of Old Wente Clones, as well as 809 and 548 provide the backbone of our complex, dramatic blend which debuted with our 2009 vintage. The Children's Garden Sauvignon Blanc also comes from this beautiful property and provides us with our perfect first course wine.
Betty O'Shaughnessy Woolls And Paul Woolls – Proprietors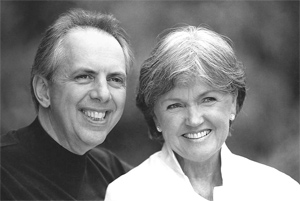 Betty hails from Minnesota, having spent her childhood growing up in a rural farming community. After college she raised a family while building a career in real estate investment/development in Minneapolis. Her entrepreneurial spirit and passion for food and wine fueled the fires that transitioned her from owner/teacher of a cooking school in Minneapolis, to creating a winery in Napa Valley.
In Napa, Betty fell in love with the beauty of the land, the vineyards, and the climate. In 1990 she landed in Oakville with a parcel of land, including vineyards and a home site. Betty reconnected with her deep rooted appreciation of the soil and the bounties it brings. Over the next few years, additional vineyards on Howell Mountain and Mount Veeder added to the source available for varieties of grapes. The new century brought a cave, grapes crushed into wine and a design for a winery structure. The project completed in time for the harvest of 2003.
In addition to the winery, Betty remains an active volunteer and philanthropist in the community. In 2002, Betty took on the role as Chair of the Board of Directors for Napa Community Bank, where she still serves as a director. In 2009, her community involvement expanded to include an exciting new role as Trustee for Napa's Queen of the Valley Medical Center.
Paul, too, began life in the Midwest. Born almost on the campus of Indiana University, Paul later moved to New Mexico. He now sheepishly admits there developing the beginnings of a passion for wine ‐ albeit on brands that today no serious vigneron would admit consuming. From those beginnings, Paul found in college that starving for a month would allow for one great meal at the only French restaurant nearby. Then law school and his practice allowed the drive to learn about wine to thrive. That drive culminated in a fortuitous wine tasting where he met Betty.
Together, they now share a challenging goal of making the best possible wine from the exceptional vineyards they steward. Likewise they are most fortunate to enjoy family life provided by numerous children (all girls) and even more grandchildren (mostly boys). Betty and Paul continue life's joyous ride as companions, partners, and winemaking buddies in the O'Shaughnessy Estate Winery.
Sean Capiaux – President And Winemaker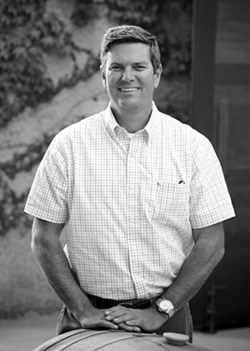 Founding winemaker, Sean Capiaux, has established an impressive and notable career over the past twenty six years at prominent wineries around the globe. He graduated from California State University, Fresno (BS, Enology; minor in Chemistry) in the late-80's and began his career at Jordan Winery in Sonoma County's Alexander Valley. Sean traveled to Perth, Australia to work on the winemaking team at the Houghton Winery and later returned to the United States to become the assistant winemaker at Pine Ridge Winery in the Stags Leap district. Peter Michael Winery tapped him to become their assistant winemaker where he worked for four years. Sean spent several years as a bicoastal winemaker attending to wines both on Long Island and in California before coming to O'Shaughnessy.
Sean serves as president and winemaker for the O'Shaughnessy Estate Winery and consistently creates world class mountain Cabernets. Sean describes his winemaking style as neo-classic in that he employs modern equipment to produce non-interventious wines which are naturally fermented and bottled unfined and unfiltered. These techniques allow the varietal character and terroir of the O'Shaughnessy Estate vineyards to be the stars of the show.
Winemaking Team
Aaron Elam grew up amongst the redwoods and near the coastline in the small California town of Fortuna in the Eel River Valley. Youth football and baseball set the stage for the athletics he performs as our Associate Winemaker in the cellar at O'Shaughnessy. Aaron graduated from California Polytechnic University in San Louis Obispo in 2004 (BS, Fruit Science; minor in Wine and Viticulture) and worked both abroad (New Zealand) and locally (Fantesca Estate) as a Vineyard Assistant and Cellar Master. Aaron counts his lovely wife Jen and his throng of snowboards amongst his most prized possessions.
Orlando Preciado was born and raised in the town of St. Helena (Go Saints!) near the base of Howell Mountain and brings with him the strong work ethic of the beloved Preciado family. His sister Blanca is a member of our hospitality team and both are first generation Napa Valley residents. Orlando graduated from California State University in Fresno in 2008 (B.S. Enology; minor in Chemistry) and has worked abroad (South Africa and Spain) and also locally for Grace Family Vineyards in St. Helena. Orlando is our Assistant Winemaker as well as resident nutritionist and fitness instructor having spent many years studying both subjects in his spare time.
Will Mundy hails from the 'Capital of Silicon Valley" and by all rights should have gone off to pursue fame and fortune and create the latest and greatest wine application. Instead, he rightfully decided to go East a few miles and get himself a degree in Enology from Fresno State (Go Bulldogs!) and pursue his passion in the world of wine. We were fortunate to have Will audition for, win the role of, and flourish as an intern for Crush 2015. When we were looking for a new member of our winemaking team we knew just who to call. When Will is not attending to his numerous duties in the cellar he is most often found in the mountains climbing, foraging and enjoying life without technology with his friends and trusty black lab Molly.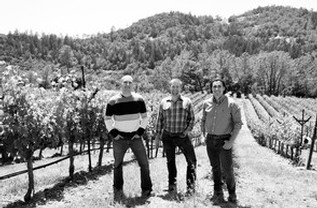 Alan Peirson – Viticulturist
A California native, growing up in Marin County, Alan Peirson began his studies as a student in Art History at the College of Marin. Surrounding his artistic life as a ceramicist and sculptor, Alan has always had an intense interest in food, wine, building, design, horticulture and landscaping.
For twenty years, designing, building and managing what is now the Peter Michael Winery Estate, Alan played an integral role in the genesis and development of the estate winery and vineyard program. He also used his many talents as Estate Manager, as well as Artistic Director of a non-profit organization raising money for the performing arts. His palate for fine wines was fed and expanded while managing The Vineyard Cellars.
In the summer of 2002, Alan started a new challenge on the slopes of Mt. Veeder with Sage Vineyards, developing and managing an estate vineyard and wine program while maintaining an active role as part owner of L'Angevin Wines
Luke Russ – Commercial Director
Born in Manhattan, New York and raised in Oakville, California made for a very abrupt introduction to country life in the Napa Valley in the late 70's. A proud graduate of the St. Helena school system Luke worked on both the winemaking and sales teams at Joseph Phelps Vineyards before completing his studies at San Francisco State University (B.S. International Business). Luke spent several additional years in San Francisco working in investment banking and early internet technologies. Luke returned to the Napa Valley and the wine business in 2001 where he has worked in sales, marketing and general management for the last decade.
Luke serves as Commercial Director for O'Shaughnessy Estate Winery and is charged with the creation of sales and marketing strategy, international and domestic distribution and sales team management. In his spare time Luke can usually be found with his wife and twin boys roaming the 'mean' streets of Yountville or cycling through the vineyards of Oakville to burn off the calories from his exploits.
Hospitality Team 
Blanca Preciado, a native of St. Helena grew up the only girl in a well-established vineyard management family. Let's just say she can hold her own in most any setting, especially on the soccer pitch, as a longtime intermural and club league soccer star. We grabbed Blanca right after she graduated from San Jose State University (B.A. Social Work; minor in Mexican American Studies) and now feel fortunate to employ two members of the Preciado family. Her brother Orlando is a member of our winemaking team and both are first generation Napa Valley residents.
Kristen Arnold was a special find. A Northern California native and longtime Napa Valley resident who graduated from Le Cordon Bleu (and loves to bake!), we knew we had to have her on the team. Kristen spends her days at O'Shaughnessy with our special guests and her night vying for the Mom of the Year Award while tending to her young family and smiling husband Byron.
Wines at O'Shaughnessy Estate Winery
Winery:

Vintage:

2014

Origin:

Tasting Notes:

Food Pairing:

Enjoyment Factor:

Chilled to 45 degrees

Price:

$

$

$

$

$
Our Rating:
Winery:

Vintage:

2013

Origin:

Tasting Notes:

Food Pairing:

Enjoyment Factor:

Slightly chilled (60-65 degrees)

Price:

$

$

$

$

$
Our Rating: