If you were not at the Ward on Wine "Q in the Lou" wine pairing class on June 15, then you missed an amazing evening with Pappy's B-B-Q!  Pappy's Smokehouse, as you may know, is an award winning Memphis style barbecue restaurant in the heart of St. Louis.  Many folks believe that beer is what pairs best with barbecue.  Beer is great, but if you are a wine lover, we have the perfect pairings for you!
At our "Q in the Lou" clas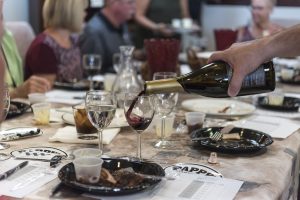 s we served up a lot of food.  Pairing wines with each course.  Smoked Turkey with Chateau Puech Haut 'Prestige' Rosé and Pappy's potato salad with Simi Chardonnay.  The aromas of ripe cherry, raspberry and hints of citrus from the rosé complimented the smoky, juicy white meat turkey.  The creamy potato salad was a perfect match for the buttery chardonnay.
As we progressed on to ribs, pulled pork and baked beans, we brought out bigger, bolder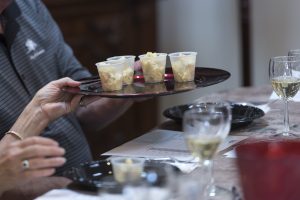 , spicier reds.  Diora Pinot Noir, Smoke and Mirrors Red Blend, Boneshaker Zinfandel and Two Hands Angel's Share Shiraz held their own against the fantastic sampling of Pappy's fair.  The full bodied wines met well with the intense smoky flavors and slightly sweet sauces.
If that wasn't enough to prompt you to loosen your belt…we bought out some of Jane's famous brownies and pecan pie bars….to die for!  We paired these decadent treats with Dow's 10 Year Tawny Port.  A match made in heaven.
Keep you eye on www.wardonwine.com for upcoming classes and pairings.  We make sure no one leaves hungry for food or for wine knowledge!